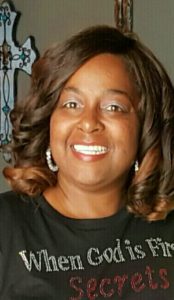 by Latanya M. Hughes.
As believer's, our prayer life gives us access to the divine throne room of God. With this access, we have the privilege of receiving God's innermost secrets. As we boldly enter into His presence, our prayers move heaven to respond to our needs. God reveals His expectations and promises; therefore, nothing is hidden from us. In fact, Jeremiah 33:3 clearly states that we should, "Call on God, and He will answer and tell us great and unsearchable things, that we do not know." This call is an invitation from God for us to take Him at His word. Will you accept God's invitation? If so, He will disclose some amazing secrets to you. His divine wisdom will empower you with spiritual insight. With this information you will be able to accomplish God's divine purpose for your life.
Furthermore, if you knew that God would respond to your prayers, would you pray? God does answer prayers and no situation will keep Him from responding. Prayer is the key to unlock the doors of heaven. Every unknown question can be found when you set aside time to talk to God. Whenever there is an intimacy with God, He will release confidential information. Prayer is a time of communion and learning what God desires from us. Whatever you are going through, God can speak to it and change it. God is the creator of all things and we can do nothing without Him. When we put God first, He will not only listen, He will do the unthinkable.
Do you realize that your prayers are powerful? Consider this, Romans 4:17 states that when you pray, you have the ability to call those things that do not exist into existence. God has given you the authority to create a better life for yourself. Therefore, because you are the child of a King, do not continue to live beneath your privileges. Therefore, seek God until every answer is manifest on the earth. Remember, you are the righteous, so embrace, declare, and receive everything that God has ordained for you and your family.
Moreover, as you pray with confidence, making your requests known, surely He will hear your prayers. As stated in 1 John 5:14–15, if our prayer requests are in agreement with the Lord's will then we shall have what we are requesting. This is why it is essential to have a prayer life. Prayer, which is a form of communication with God, teaches us how to hear God's voice. In hearing from God, He reveals His will. Therefore, God will grant every petition that we have submitted because we have prayed His will. Hence, nothing gets the Lord's attention more than His children desiring to do kingdom business. The Word of God confirms to us in 1 Peter 3:12; that the Lord's ear is attentive to our prayers. Therefore, when we pray, our ears and mind should eagerly await for God's response.
When you pray, do you seek the Lord's will for your life? Or do you pray for something else? Hopefully, you have been seeking God; so that you can discern His will for your life. If not, ask God to teach you how to align your prayer requests with His will. God pays close attentive to the prayers of those that have a heart to please Him. Our life belongs to God, so it is imperative that we seek Him every day finding out what He needs from us.
However, it's unfortunate that believers will try everything else first, before they try prayer. This approach is not biblical and surely it doesn't please God. If God implemented prayer as an example in the Holy Bible for us to follow, it would only make sense that we pray. I realize that life can get hectic; however, we need to get in the habit of talking to God about every situation in our life. When we discuss life situations, it gives God an opportunity to work on our behalf. Therefore, a prayer life encourages, strengthens, and transforms us into the vessel that God wants us to be.
—
Latanya M. Hughes, M.Div. 12′  author and inspirational leader serves in ministry at New Birth Christian Ministries under Bishop Kenneth Moore, Sr..  She is the author of Secrets from Heaven. Her book, Secrets from Heaven has been an encouragement to many. She is also well underway on the next release, Secrets from Heaven II.
She has a Masters of Divinity degree from Ashland Theological Seminary. Her mission as an author is to show Christian's how to activate God's power in their life. The power is within believers but can only be obtained through prayer. Prayer propels us to our destiny. God is ready to unleash the power; but we must be ready for a life changing experience.